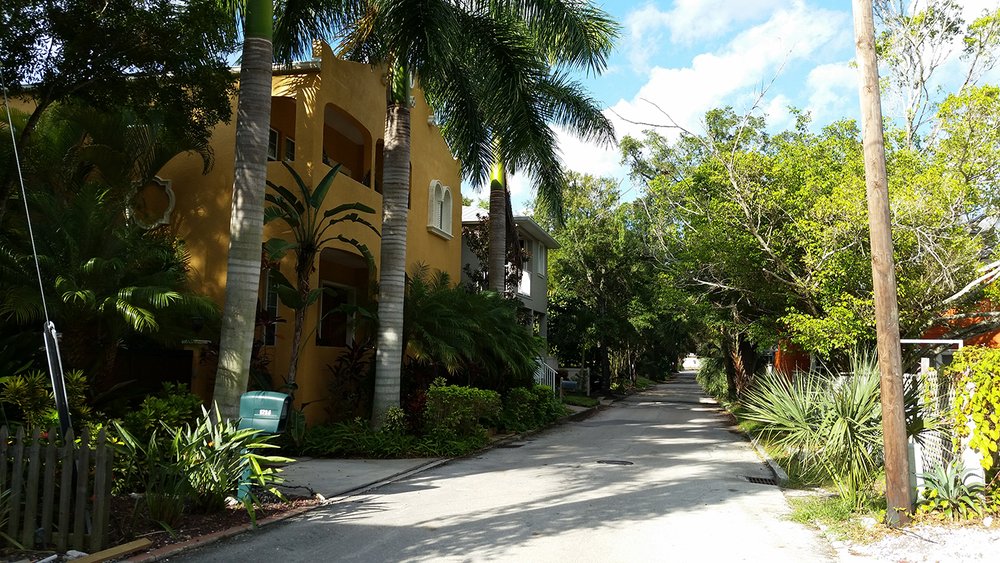 I try to be cognizant that I'm writing for an international audience here at Strong Towns. A lot of my idea fodder comes from walks around the city I've lived in for the last 11 years, but I fear I can only write so much about Sarasota, Florida, and have it be relevant and interesting to people who don't live here.
I've always wanted to write about Laurel Park, a Sarasota neighborhood which I lived in from 2014 to 2016 and have admired for longer than that. Now that my family and I are moving away from Florida, it feels like the right time to pay a bit of tribute. (We are relocating to St. Paul, Minnesota, where I grew up and where my parents and some of my extended family still live. It'll be good to be close to family and (more) friends, and to raise the kids amid that "village.")
This isn't an exercise in mere nostalgia. The built form of Laurel Park actually provides some excellent insight into what the next incremental stage of growth could look like for the over 75% of America's residential landscape that is currently mostly (or wholly) occupied by single-family homes with yards. Good urbanism doesn't have to mean large apartment buildings or some immaculate row of brownstones; the ad-hoc version on display in a neighborhood like Laurel Park is more relevant as a model of adaptation for, well, "the rest of us."
Meet the Eclectic Neighborhood
Laurel Park is located just southeast of and adjacent to downtown Sarasota. The neighborhood is roughly 100 years old. Many homes and apartment buildings showcase the telltale Mediterranean Revival style of the city's first big development boom in the 1920s, while others were built later. Today it's a historic district and something of a relic: restrictive zoning and fierce (one could, not inaccurately, say NIMBY) advocacy by longtime residents has preserved Laurel Park's lush greenery and its built form of mostly one- and two-story buildings in the shadow of downtown's modern high-rises. What you see is a time capsule of the development pattern that evolved in the pre-suburban era. And the best word for that pattern is "eclectic."
Things are cozy and close together here. You won't have a grassy lawn to toss a football around. But what you sacrifice in elbow room, you gain in the benefits of compactness: a walkable, lively neighborhood with the population to support local businesses in close proximity.
You also gain a different kind of beauty. The buildings aren't huge and monolithic. There are lots of little passages. The patios and modest yards and gardens of Laurel Park are high in delight per acre: lavish attention is paid to small landscaping and aesthetic details in a way that I've never experienced to be the case in a neighborhood where the lots are large.

View fullsize




View fullsize




View fullsize




View fullsize

And there is green space: the eponymous neighborhood park is a delight. A collection of communal children's toys—tricycles, scooters, little play houses—resides permanently on and around the playground. People are almost always in the park chatting in mid-afternoon on a nice day.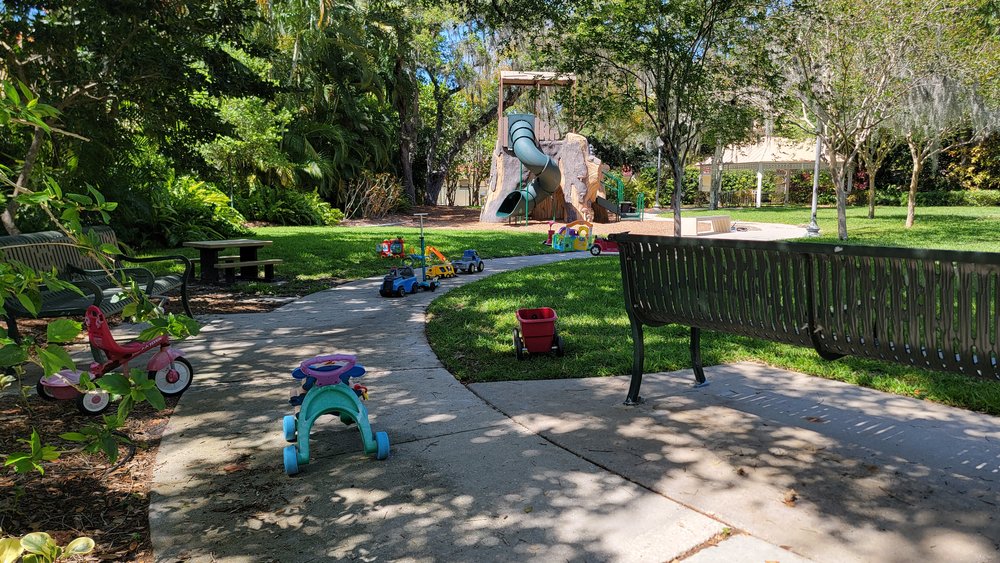 There are plenty of single-family homes:

View fullsize




View fullsize




View fullsize




View fullsize

Many of these homes have accessory dwelling units (ADUs), guest houses, or carriage houses:

View fullsize




View fullsize




View fullsize




View fullsize

There are duplexes, triplexes, and fourplexes scattered throughout nearly every block:

View fullsize




View fullsize




View fullsize




View fullsize

There are cottage courts (tight clusters of small homes around a shared space):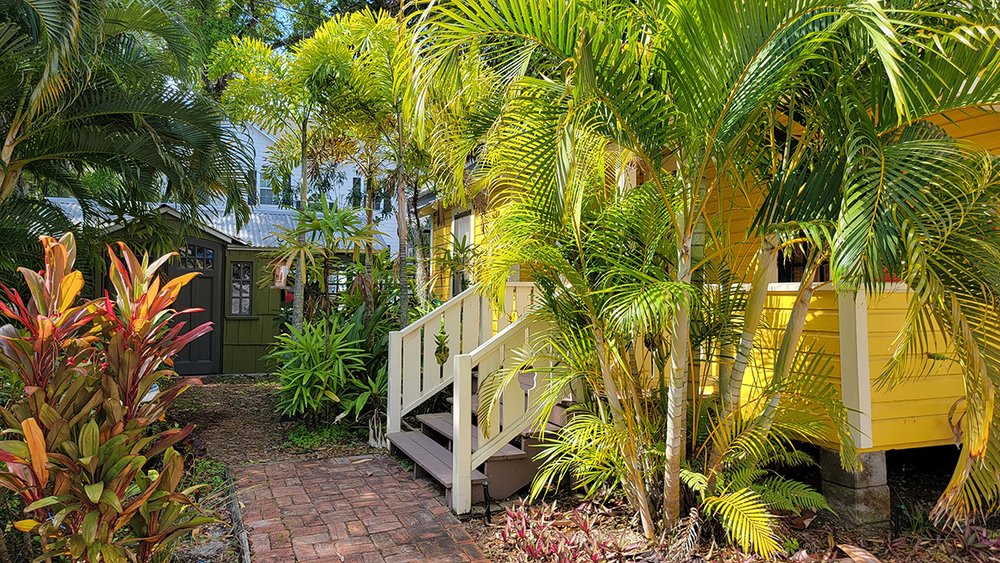 There are apartment buildings, mostly from the 1920s Mediterranean Revival:

View fullsize




View fullsize




View fullsize

All of this coexists easily. Not one of these things is a nuisance, or out of character. There are simply no discernible negative effects caused by this mixing of built form. There are no traffic problems or parking problems here.
And there are beneficial effects. One obvious effect of a diverse mix of housing types is that the neighborhood is home to a diversity of residents: old and young, renter and homeowner, "snowbirds" and year-round locals, married with children, single with roommates. For many younger renters, it's virtually the only opportunity to live a walkable, urban lifestyle in Sarasota on the kind of income you have early in your career. This was what drew my wife and me to the neighborhood nine years ago.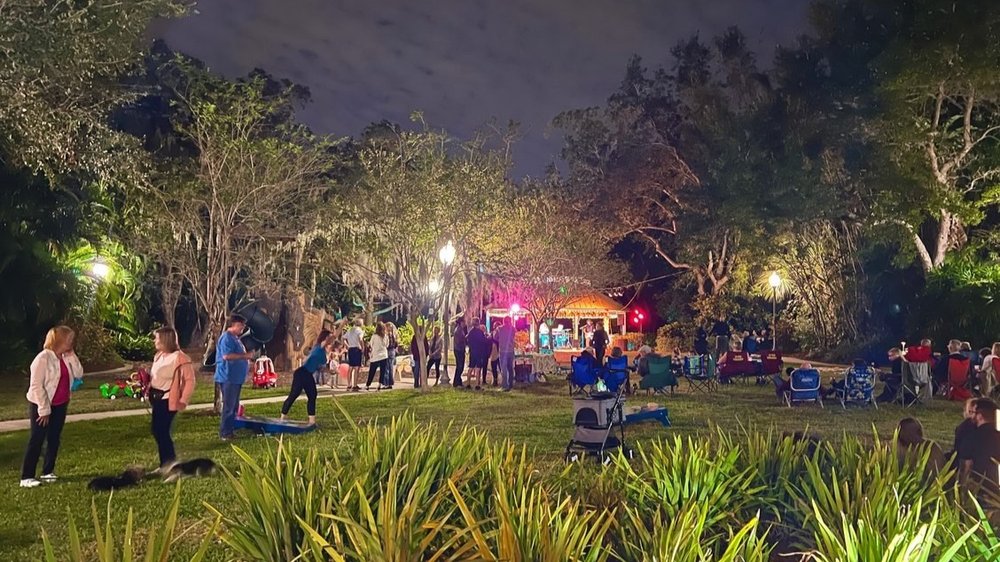 When we moved to Laurel Park as newlyweds, it was into an accessory dwelling unit tucked behind a small dingbat apartment building and a duplex on a corner lot. Our apartment was on the fence line with a single-family home: we were friendly with the homeowner and got to know the stray cats he would feed daily. (One of those cats we ended up adopting.)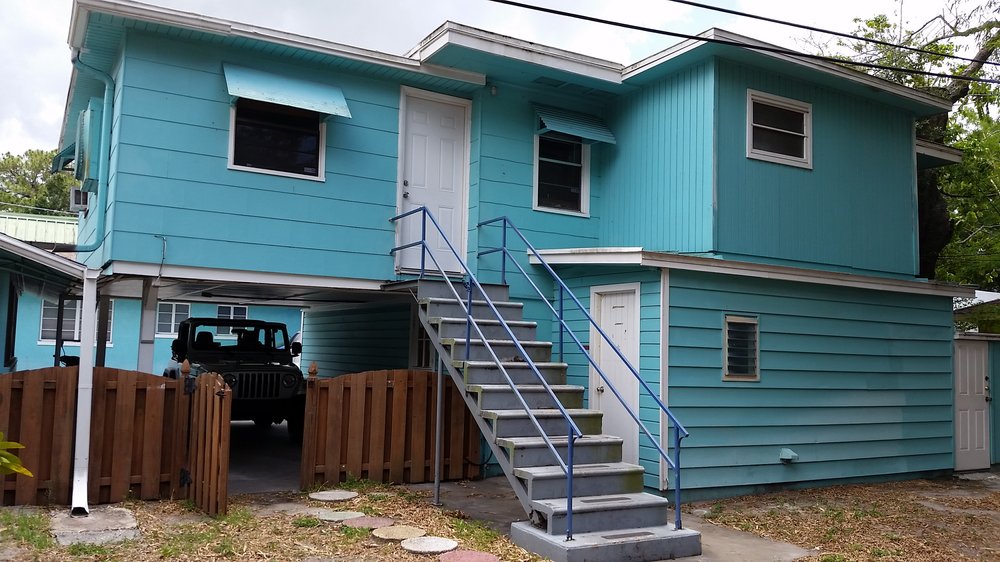 We were also friendly with our landlord, a Canadian who came down a few times a year. The rent was a bargain for anywhere in town, let alone a five-minute walk from Main Street's shops and restaurants. Nothing remotely comparable exists in the larger, newer buildings nearby.
Our region is in a dire housing affordability crisis: from 2021 to 2022, rent growth here was a mind-boggling 47% (compared to 18% nationally). The crunch is especially acute in and near the downtown core; in Florida, we're good at building subdivisions in cattle pastures but not so much at handling a surge of unmet demand for walkable urban living. Affordable housing for a downtown workforce is a constant topic of conversation in city hall; new construction is too costly and too slow to be the answer in and of itself. In this context, I find it beyond obvious that the eclectic mix of ADUs and other modest housing options already available in a neighborhood like Laurel Park is a crucial source of relatively inexpensive housing.
Another beneficial effect of this neighborhood's built form is financial productivity. This is a place that is paying its freight. Its public infrastructure is modest (streets, for example, are narrow) while the concentration of private investment is significant, a direct consequence of the variety and compact arrangement of housing in Laurel Park. To see this, we need only compare a block of Laurel Park with a much more conventional block of single-family homes in nearby Hudson Bayou, one of the wealthiest neighborhoods in the city.

The Laurel Park block accommodates roughly triple the number of homes in about the same land area. These are, on average, much smaller homes, and less expensive overall, even as the total assessed value per acre of the real estate is 39% higher in Laurel Park.
Creating More of a Good Thing
The actual market values of property here tend to be higher than the tax-assessed value by a significant margin. Real estate in Laurel Park has become tremendously expensive—in fact, prices here are just about the highest in the city when measured on a per-square-foot basis. (Keep in mind that the single-story 1920s bungalows of Laurel Park are quite small.)
This neighborhood is not expensive because it's the kind of place that's expensive to build—it isn't! It's wholly about the scarcity of this kind of place, and the desirability of the location.
And the answer to that problem is simple, in principle: more Laurel Parks. This place shouldn't be the rarity it is. It's a demonstrated huge success: there should be a dozen neighborhoods like it in Sarasota alone.
There aren't. In fact, it's illegal to make any other neighborhood here more like Laurel Park. Virtually every lot in Laurel Park violates some combination of the density, parking, and setback restrictions that apply to every other neighborhood in the city. (In fact, many of them violate the restrictions that apply to Laurel Park, itself—they just had the good fortune to have been developed before the modern zoning code was in place.)
We could make it so that just about any residential neighborhood could evolve to look more like Laurel Park. Not just here, but in almost any American city that shares the basic DNA of single-family detached homes on lots of modest size. It just requires some key policy changes to make the historic pattern already visible in Laurel Park legal to reproduce without a costly and uncertain variance process:
In neighborhoods dominated by single-family homes, allow buildings at the missing-middle level of intensity—certainly up to a fourplex or cottage court, but I would suggest up to the kind of small-scale apartment buildings that exist here.
Allow accessory dwelling units without onerous restrictions, like owner-occupancy on site or a separate sewer and water hookup.
Eliminate parking mandates.
Make setback requirements small to zero.
Eliminate minimum lot size requirements.
Allow lots to be split and subdivided with few restrictions, only those needed for basic access and safety.
There is some momentum in this direction. Parking mandates have begun to fall like dominoes across the North American continent. And advocates for the reform of rigid single-family zoning have caught on to the idea of lot splits, in California and elsewhere.
An Evolutionary Pattern
It's important to recognize that a neighborhood like Laurel Park is itself the result of ad-hoc evolution and reinvention over time. It wasn't planned to be the eclectic mix that exists today. Here is an aerial photo from 1948, showing ample lawns and still large vacant tracts:
Here's 1986:
Redevelopment continues on a modest, scattered basis, as individual houses are torn down and replaced. Some of the recent redevelopment in Laurel Park itself has taken the form of large, single-family homes, but other new construction replicates the fine-grained historic pattern of the neighborhood. In the latter case, the key is splitting up lots to build on very small chunks of land. Here's an aerial view of a cluster of new townhomes built around an alley interior to a Laurel Park block. These tiny lots were created by subdividing larger ones; the neighborhood wasn't originally platted with them.
There's not much but regulation and our entrenched building culture keeping the average American neighborhood from beginning to fill in with something similar to this.
It's not a master planning process, or a coercive one. Nobody is coming for anybody's home or yard. This is an evolutionary process that can unfold, if allowed to, as individual homeowners make a range of choices for individual reasons.
Some people will always want their privacy and their yard and their elbow room. But lots of people would take this trade-off. And some of those "lots of people" own the suburban-style lots that comprise 75% and up of urban residential land in most U.S. cities. Those people can start filling in backyards—not all of them, of course, but a fraction of them, as the owners desire—with ADUs. We can start allowing owners to split up lots, or small developers to build cottage courts where in a previous era you'd have had one or two "McMansions," simply because that was the only thing allowed.
Laurel Park demonstrates the kind of place that would result from that evolution. Far from feeling chaotic or crowded, it can be lovable, beautiful, and a boon to your city.
---
---